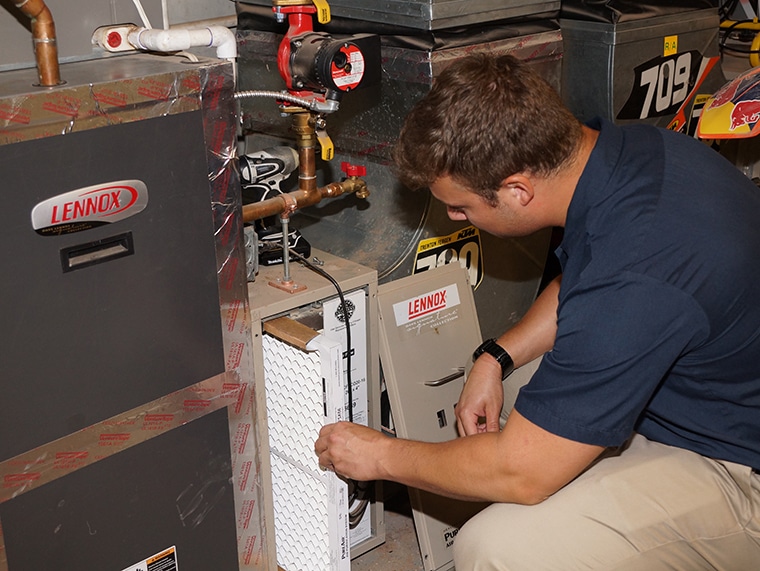 SERVICE OVERVIEW
Winters are long and temperatures extreme in Vail Valley and Glenwood Springs, Colorado, which increases the demand for heating for a large part of the year. You need a professional heating company with well-trained and experienced technicians to complete comprehensive diagnostics and heating repairs in Edwards, Colorado to ensure guaranteed comfort for a warm, safe, and healthy winter. Climate Control Company can provide service on your existing furnace, boiler or radiant system, geothermal or solar heating system, or perform a custom installation for any application. Heating systems that use natural gas require a special safety inspection to keep from potential carbon monoxide leaks, which can cause long-term health issues and even result in death, if extreme. Whether you need heating repair, heating maintenance, a new furnace installation, or a boiler repair performed, our trained and certified staff is here for you 24/7, 365 days a year.
Heating, Furnaces, Ductwork Design and Consulting
Our warm air heating systems are designed to deliver an even temperature with quiet operation and superior efficiency. Proper consulting on the design of your heating systems are necessary to achieve a well-thought out and functional heating system.
Ductwork is Essential
In order to make a system truly efficient, the duct system must be the proper size and laid-out to deliver heat to the space evenly and quietly. Properly sized ductwork also keeps the equipment from overheating and short cycling. This ensures that the equipment we design will perform well for years to come.
Variable Speed Blowers
Variable speed blowers in today's modern furnaces are the latest advancement in the industry. This technology was previously available only in larger, more expensive, commercial furnace system designs. The variable speed blower is electrically more efficient and adjusts to keep air flow constant through dirty filters or duct work. Variable speed blowers in multiple zone systems can also be used to deliver the right amount of air to each zone on the system.
Forced Air Heating Partners
Boiler (Hydronics) Systems:
Hydronic boilers are used to heat a medium, usually water, in order to provide comfort for either residential or commercial buildings. The boilers are flexible because the fluid that will be distributed throughout the building can be heated using multiple methods. Natural gas is the preferred method if it is readily available. LPG (propane) and fuel oil are just some other examples of the many ways to heat the medium. The boiler system includes piping, pumps and some form of distribution to heat the space. Radiators, baseboard, and fan coils are common examples of heat distribution. The newest form of distribution is radiant floor heating, which runs tubing underneath the floor to provide total, even comfort.
Hydronic boilers are popular in North America, especially in the Roaring Fork and Vail Valleys. Hydronic boilers started in Northern Europe because of their efficiency. They are an alternative to forced air heating in many aspects. Advantages of hydronic heating are the ability to zone areas and have multiple temperatures of heat. Zoning areas allows for better control of temperatures because similar spaces in a building are kept at different temperatures than others.
Copper piping, although slightly more expensive to install, will save money in the long run based on copper retaining heat for a longer period of time. After the boiler shuts down, heat will continue to be emitted because of this retained heat. The piping is also smaller than duct systems and is easily worked into smaller spaces, so it can be disguised and help keep the natural beauty of a home. It may be beneficial to your health because it does not spread dust, mold, or toxins into your household like some forced-air heating systems can. They may also allow more humidity to be maintained in conditioned spaces. Hydronic boilers come in all shapes, sizes and configurations that serve a multitude of applications. Overall, hydronic boilers are an affordable option and may provide a more efficient system of heating.
Radiant Floor Heating:
Radiant floor heating is not new technology. It was first used by the Romans as early as 60 A.D. Today, it is one of the most comfortable heating systems available. One great aspect of radiant heating is the ease of zoning rooms within the building. Rooms might have different exposures and heat loss. Therefore, by zoning the rooms, you maintain a higher degree of comfort, versatility and efficiency. These systems are quiet, clean and heat the entire space requested. Radiant heating systems can be used from the smallest remodel to very large commercial projects. From airport hangers to add-on rooms in homes, radiant heating will provide you with maximum comfort. Of course you can still have air conditioning, humidification and indoor air quality systems incorporated with radiant heating.
Snowmelt Systems:
Snowmelt can be used for many different applications, i.e.: melting snow, ice and frost from driveways, sidewalks, Porte-cochère, and public entrances to parking garages and emergency rooms. Snowmelt may be referred to as ice melting. These systems have become more evident over the past 10-15 years with architects, engineers, builders, developers and homeowners. Building regulations may require them to be installed.
Snowmelt systems have become more efficient to operate over the past five to seven years based on the boiler technology now available to North America in the form of condensing boilers. This, combined with proper piping and controls applications, make these systems very practical, especially when you start comparing the economics of snow removal, insurance and potential life/safety issues. It may even provide building owners/operators cost savings on liability insurance.
Snow melting can be zoned into multiple areas or left to operate as one. The choices of operation and application are varied to the point that it can be used to melt out areas of potential ice damming including roofs, gutters and downspouts.
If you think it should be melted then the probability is there.
Radiant Floor Heat & Snowmelt Partners
Click here to view some of our award winning designs and installations.
Climate Control Company specializes in designing radiant heating for Avon, Colorado or snowmelt systems that best fit our client's needs in Vail Valley. We can design and consult on systems that include heating the floors, walls and ceilings to overcome heat loss.
Whether you are in the Roaring Fork, Vail or Grand Valleys or the surrounding Western Slope, give our office today for a convenient appointment to learn more about how we can meet your heating needs, including heating repair, radiant heat systems, snowmelt or any other heating or ductwork design or consultation.