Commercial Furnace Maintenance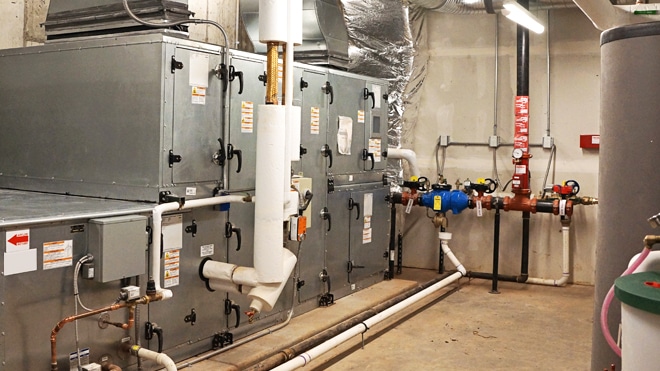 Service Overview
If you are a sports fan you may have heard the saying, "The best ability is availability." Well, Climate Control Company likes to change that up a little bit for HVAC equipment, specifically commercial furnace maintenance, and we like to say, "The best ability is reliability." 
Maintenance = reliability
Just like a player can't help a team if he or she is hurt, a heating system can't keep your Glenwood Springs, Aspen, or Vail, CO business comfortable if it's broken down. The path to furnace reliability is made possible by regular commercial furnace maintenance from our trained technicians.
Check out Climate Control's qualifications
Climate Control has a long history of providing top notch preventive maintenance to commercial clients throughout the Western Slope. We will be happy to provide you with a list of references, satisfied clients, who depend on us to keep their heating systems operating at peak efficiency. Here are just a few specific reasons why you should choose us:
✔ Emergency service available 24-7 and 365 days a year
✔ A written 100% warranty on all our work
✔ Equipped with the most advanced tools
✔ Weekly training for all technicians
✔ Licensed, bonded, and insured meaning no financial liability for you
The big gamble
Ignoring routine maintenance on your heating system is a little bit like gambling. Sure, you might win once or twice, but in the long run the house (casino) always wins. Losing the HVAC maintenance gamble often results in expensive repairs or even more expensive system replacements. Breakdowns can also mean extended down time for your business. However you cut it, ignoring preventive maintenance might not be the best choice for your bottom line.
Make a plan and stick to it
The best way to handle HVAC maintenance is by making a schedule and sticking to it. This means annual maintenance and tune-ups for your heating and cooling system. Climate Control can work with you to provide a maintenance plan customized for the particular needs of your business or commercial operation. As a plan customer you don't have to worry about scheduling a visit. Our team will contact you to make an appointment when it's time for your annual tune-up.
We are here to help
Call Climate Control Company now to learn more about the maintenance services we can provide to increase the reliability of your heating system. Whether it's a school building, rental property, office building, strip mall. or factory, we will provide comfort and safety no matter how cold it is outside.