Commercial AC Replacement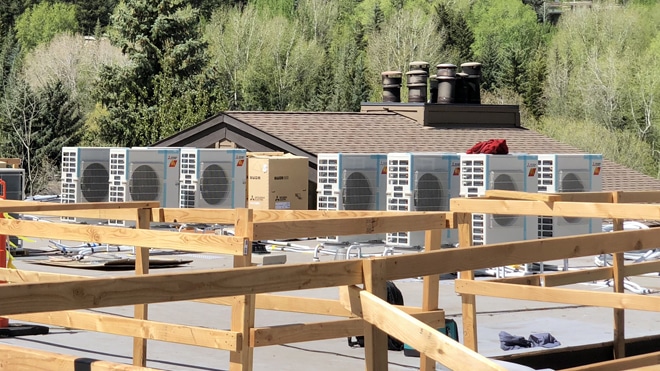 Service Overview
It's the news business owners never want to hear: being told it's time to replace the air conditioner at your Glenwood Springs, Aspen, or Vail, CO business or rental property. It's bad news because it means a large expenditure that likely wasn't in the budget. When the time comes to your business and commercial air conditioner replacement, Climate Control Company is ready to handle the job.
Choosing a system to fit your needs
Business and commercial properties come in all shapes and sizes and so do the commercial cooling systems designed to keep them comfortable. The first step in the commercial air conditioner replacement process is determining your unique needs and then making the best choice. The options can include:
Traditional forced air central cooling systems
Forced air systems with zoning for custom temperature control
Ductless mini split heat pumps which eliminate the need for energy wasting ductwork
After the type of cooling system is chosen Climate Control will work on site to determine how much cooling capacity is needed. Some of the factors are:
Square footage
Construction type
Level and quality of insulation
Number & size of windows
Sizing is a critical step
Paraphrasing what Goldilocks said in the fairy tale, "Air conditioning can't be too big or too small, it needs to be just right." If the system doesn't have enough cooling capacity it may not be able to keep your workers and/or employees comfortable. On the other hand, never let a salesperson tell you bigger is always better. If an air conditioner has too much cooling capacity it may cycle on and off frequently leading to premature breakdowns.
Energy efficiency
Everyone wants to reduce the cost of keeping their business cool, so A/C efficiency is important. A more efficient cooling system will cost more upfront but will cut those monthly bills down to size. Climate Control likes to tell owners to buy the most efficient air conditioner that fits into their business budget. Efficiency is measured by the SEER rating. A rating of 13-14 is considered standard. A SEER rating of 15-18 is considered high efficiency. Ultra-efficient models can have a rating as high as 24.
Why installation matters
Climate Control is proud to be a Lennox dealer because it's a brand we believe in but here's something many HVAC contractors may not tell you: Many different brands of air conditioners come out of the box using the very same components. That's why we have a saying, "An air conditioner is just a box and what happens after it comes out of the box determines how well it works." It's our passionate belief that installation day is the most important day in the life of a new system. Our NATE (North American Technician Excellence) certified technicians have the necessary tools, knowledge, and experience to handle any commercial installation.
A history of satisfied customers
The motto at Climate Control is, "Comfort Driven, Colorado Style Since 1956." In the decades since opening its doors the company has handled A/C replacements for dozens and dozens of businesses in Glenwood Springs, Aspen, and Vail, CO. If your air conditioner lets you down during a Western Slope heatwave don't let the stress get you down. Our expert team is ready to add you to our list of satisfied clients.