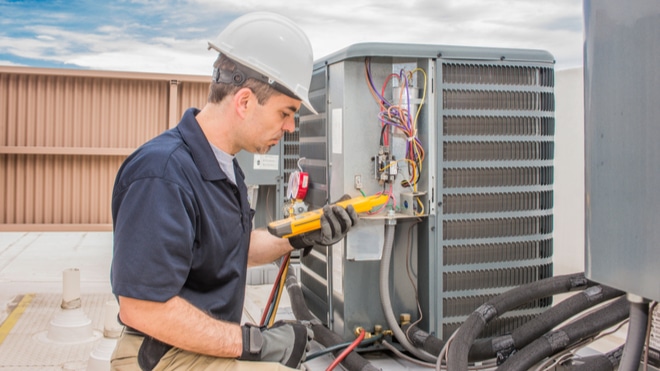 Service Overview
It's bad news when the air conditioning stops working and your Glenwood Springs, Aspen, or Vail, CO business gets uncomfortable for customers and employees. When that happens make your first call to Climate Control Company for commercial air conditioning repair.
Count the decades
Our heating and cooling company has been "Comfort Driven, Colorado Style" since 1956. During those decades, Climate Control has built a long history of serving the heating and cooling needs of commercial clients large and small on the Western Slope. If you would like to confirm the quality of our work, you can check out some of the satisfied clients we have worked with over the years.
Climate Control does more than repairs
Our highly trained and NATE (North American Technician Excellence) certified technicians can repair any brand or type of cooling system. But sometimes it's more than just replacing a broken part. Climate Control offers a comprehensive list of services:
Ductwork inspection & repair
Custom architectural metalwork
Indoor air quality services
Custom design consultations
Air balancing & zoning technology to provide even cooling
Full range of diagnostic services
In other words, our goal is not to just fix your problem, but to make sure it doesn't happen again in a few weeks or months.
Always here when you have a problem
When you need a commercial air conditioning repair you need action, not excuses. Climate Control offers 24-hour emergency service seven days a week, 365 days a year. Our trucks are fully stocked meaning most repairs can be completed in one visit and all repairs receive a 100% satisfaction guarantee. When you add it up it means less down time and a better bottom line for your Glenwood Springs, Aspen, or Vail, CO business.
Check out our maintenance plans
While the focus here is on providing excellent repairs when needed, the importance of A/C maintenance can't be overlooked. Regular maintenance is the best way to prevent breakdowns in the first place. Climate Control offers commercial maintenance plans customized for your particular needs. It's the easy and convenient way to make sure air conditioning maintenance isn't being neglected at your business. Call today to learn more or schedule an appointment.