Residential Furnace Repair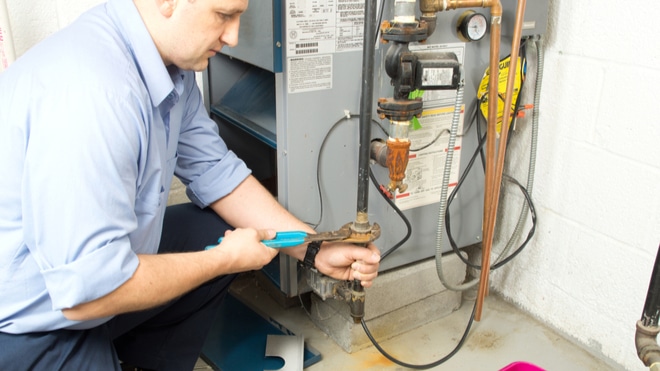 Service Overview
Living on the Western Slope in Colorado is a great experience, but our cold winters make a reliable heating system vital to comfort and safety. It's a great comfort to know modern furnaces are extremely reliable as long as they receive routine residential furnace repair to ensure they are operating according to the manufacturer's specifications.
Breakdowns do happen
Everyone understands it's not a perfect world and furnace breakdowns can happen even when you practice good maintenance. If it happens in your home, you do not have to suffer in the cold when relief is just a phone call away. The NATE (North American Technician Excellence) certified technicians from Climate Control Company can be at your front door faster than you can say, "Go Broncos." They have the tools and skills to have your home warm and cozy in no time at all.
Brand name doesn't matter
Even if you didn't buy your current residential furnace from Climate Control it is no problem. Our technicians are trained to work on virtually every brand and type of heating system including heat pumps and boilers in addition to furnaces.
Complicated simplicity
What in the world does that mean? Well, furnaces can be considered simple because they have just three main components:
Burner

Blower

Heat exchanger
Climate Control won't bore you by spending time talking about what each component does and why it's important, but it is important to know each component has multiple parts that must work correctly to assure each component is able to complete its assigned task. That's the complicated part. When you need a residential furnace repair, it takes a trained technician to determine which part is at fault and what caused the problem in the first place. Climate Control Company doesn't want to just fix the problem, but also prevent a repeat in the future.
Fast service is important
When the wind is howling and the temperature dropping, it's important your furnace repair work is done as quickly as possible. The Climate Control work trucks are fully stocked so the vast majority of repairs can be made in one visit, with no time-wasting trips to the parts warehouse. 
Ready to help
Climate Control Company hopes you never have a heating system breakdown during a Colorado winter, but that's probably not realistic, especially if you live in the same house for many years. If something does go wrong with your furnace, heat pump, or boiler, don't hesitate to call us for fast, reliable service. It's why our motto is, "Comfort Driven, Colorado Style Since 1956."