Commercial AC Maintenance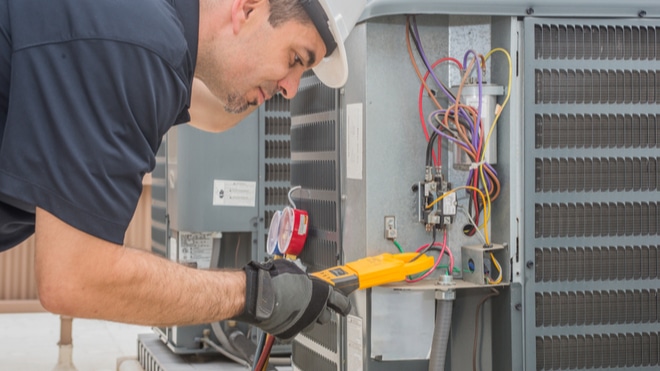 Service Overview
We know some business owners are hesitant to call in professional help for commercial air conditioner maintenance. Maybe you consider it an unnecessary expense because it's difficult to budget for. Climate Control Company believes that is a dangerous way to think when it comes to preventing air conditioner breakdowns in your Glenwood Springs, Aspen, or Vail, CO business.
Maintenance is like insurance
When you call for commercial air conditioner maintenance what you are really doing is taking out an insurance policy. Regular maintenance from Climate Control is just like scheduling a medical checkup, changing the oil in your car, or having the snowblower tuned up before the winter snow arrives. Just as in those instances, HVAC maintenance is designed to prevent more serious problems down the road. 
This why you should care
Ultimately business owners have to care about the bottom line and A/C maintenance is a good example of the old saying, "Pay a little money now, or a lot later." Not only can maintenance prevent expensive repairs, there's an extra incentive for business owners. In addition to paying for the repair, a cooling system breakdown can mean having to shut down while the repairs are made which affects your business income.
It pays to be proactive not reactive
An easy way to practice this philosophy when it comes to A/C maintenance is with a commercial maintenance plan from Climate Control. It can be customized to fit the unique needs of your business. As part of the plan our professional technician will do an annual A/C tune-up and maintenance to make sure your cooling system is functioning according to the manufacturer's specifications. Some of the services included are:
Check all electrical connections
Clean and inspect the outdoor compressor(s) & indoor air handler(s)
Check refrigerant level & system pressure
Check air temperature to assure proper cooling
Make sure thermostat is calibrated correctly & operating normally

Your maintenance plan can also include an annual tune-up for your heating system and a host of other benefits.
Save the gambling for the casino
So, even if you don't want to make the call, you have to consider the consequences. The last thing you want as a Glenwood Springs, Aspen, or Vail, CO business owner is for customers and/or employees to have a bad experience because your air conditioner is broken down and waiting for repairs. Don't gamble. Call Climate Control Company now to schedule your A/C maintenance visit or ask about creating a maintenance plan to fit your year round HVAC needs.